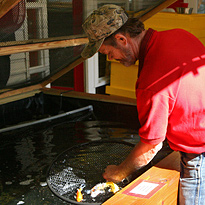 Please read before making your purchase
We here at Splendor Koi and Pond do everything in our power to ensure the koi you purchase are happy, healthy and beautiful.
All of our koi are quarantined for a minimum of 21 days before they become available to the public. During this time, we perform a full examination of the animals in order to ensure that they are healthy. The animals are then given any necessary treatment are re-examined before they are placed in our show tanks.
Our koi tanks are meticulously monitored and maintained in order to provide the best possible environment to our animals. Our water is tested weekly in order to maintain perfect water quality, and we change the water in our tanks every week. This will ensure the continued health of the animal, even after the quarantine process.
Our koi are visually inspected at least twice a day to ensure that there are no sick fish in our tanks. If a koi shows even mild signs of illness, it is removed and placed into our quarantine facilities, and the rest of the tank is treated accordingly. We will never sell you a fish that is not in perfect condition.
If you are not satisfied with the health of our fish, please let us know immediately. We will be happy to offer guidance regarding the health of your fish. If an animal dies before it reaches your pond, we will replace it with an animal of similar quality.
Please understand that once the animal reaches your pond, we can no longer guarantee its health. This is because we have no control over your personal pond environment, or the health of your other koi. Drastic changes in PH, poor water quality, excess debris or algae, sick fish or otherwise unhealthy surroundings can pose a significant risk to even the healthiest of fish. If you have any concerns or problems with your new fish, call us at 770-321-3474 and we will be more than happy to assist you in creating the ideal environment for your animals.
Please contact us with any questions you might have.