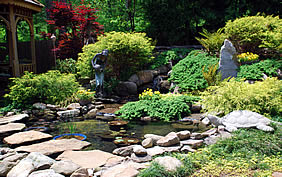 Splendor would like to thank our customers for saying such kind things about us and entrusting us with their business. We hope that our relationship will continue to grow over the years.
If you've had a great experience and would like to share it with world, let us know about your experience with Splendor Koi & Pond.
---
Dear Chuck:
I would like to express my deep appreciation for the work that you and your crew completed on our ponds last week. I am especially grateful for your rapid response for our pump failure emergency. You are obviously very knowledgeable about all aspects of water gardening and proved yourself very creative and adaptable in our particular situation. Your crew all worked very diligently; I have the utmost confidence in recommending your business for all koi and water gardening issues and look forward to consulting you in the future.Thanks again,
Julie A. Andreson
River Plantation
Duluth, GA
---
Thank you for the quick and efficient attention to our koi pond recently. It was quite a relief to have you answer our call when the urgency required it–since the pond was leaking badly in the middle of our water shortage this summer.
We look forward to your continued maintenance of our pond.Sincerely,
Polly and Richard Camp
Marietta, GA
---
Thank you for your help in selecting fish at the Charlotte koi show recently. I was very impressed with the fish you brought with you. The wife and I are looking forward to visiting your business location in Atlanta soon. I also appreciated that you were able to tell me where they came from without hesitation. I felt that your prices were reasonable, and your working knowledge of ponds and filtration and koi are much better than I had found elsewhere.
The attention to detail, and concern for your fish (and your customers) is a BIG benefit to me as a hobbyist. The fact that you actually called to check on the fish is unheard of service in this day and age. Keep up the good work. We WILL be buying more fish from you. Please feel free to use me as a reference.
Tim Tucker
Penrose, NC
---
Dear Mr. Crisp:
I am writing you this letter for appreciation and satisfaction of the work you performed on our backyard fish pond. You and your employees should be commended for exhibiting such a high level of professionalism and integrity. Two items which are rare in today's business world. Not only did your company respond in a timely manner, you completed the project in a timely manner and continued to follow up with us on whether the repair was to our satisfaction.
I can't say enough good things about our experience with Splendor Koi & Pond and would highly recommend your services to anyone in the future.
Keep up the good work!!!!
Respectfully yours,
Pete & Hilary Keskonis
Marietta, GA
---
I am writing to Splendor Koi & Pond because I have had excellent customer service from Chuck Crisp, the owner.
My wife and I were going on vacation last October when our large female cut herself badly on a planter the week before vacation was to start. I scheduled an appointment with Chuck to come by to treat her and check our pond's condition. He was very prompt and a left a detailed lis of what he tested and treated for. Chuck also made follow-up calls to insure everything was OK.
Splendor Koi & Pond is an excellent company to do business with. I have highly recommended Chuck and his company to several people I know who have ponds or are thinking of building one themselves.
In today's business environment, customer service is hard to come by and Splendor Koi & Pond knows how to take care of their customers…period.
Sincerely,
Clay Melancon
BACK TO TOP
---
Chuck,
I wanted you to know that your staff has restored my 13-year-old waterfall and pond combination to a fantastic water feature for our garden. And they did it on time, under budget and exceeded my greatest expectations!
A few weeks ago, my water feature developed a leak and Judy and I had to decide the best way to fix it. A neighbor recommended a company that had just done a water feature for him. That competitor to you made us a proposal to completely re-build my waterfall and pond for around $13-$15,000 dollars. My wife and I could not afford something like that and she formed a contingency plan- drain the pond and put flower pots on each of the levels of the water fall. That is when I called you and Splendor Koi and Pond. You and your staff determined within ten minutes the source of the leak and gave me a proposal to improve the performance and overall appearance of the waterfall and make the pond into a thriving area for fish to grow and be enjoyed by our grand children and us.
I watched in awe as your staff members worked together to replace all the rocks removed to correct the leak, power sprayed it, vacuumed out years of debris and when they finished and filled the pool, the had placed all the rocks in perfect position so no water runs out or splashes over. Not one rock had to be repositioned! I am still trying to figure out how they knew where the water was going!
But sir, you not only delivered what you said you would, you did it a couple hundred dollars under a $1500 budget! FANTASTIC! Most important though, you did not just give me a revitalized pond, but thanks to the great filtration and UV system you put in, I now have an outdoor aquarium for the grand kids to keep their fish in!
Thanks a million!
Ed and Judy Bonsecour

BACK TO TOP
Let us know about your experience with Splendor Koi & Pond.